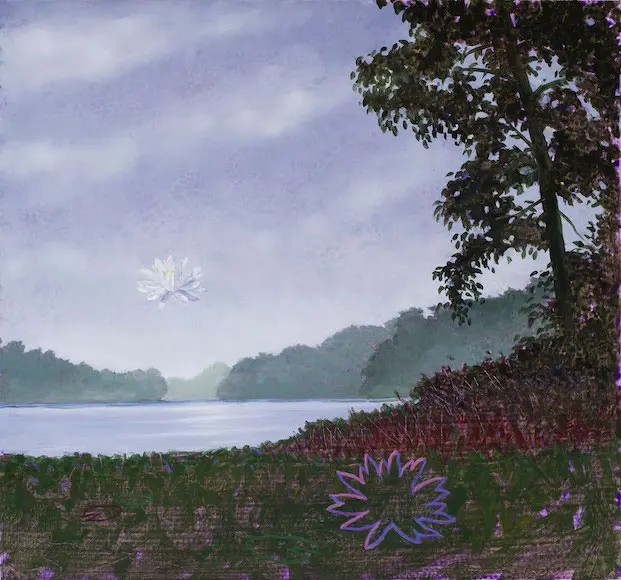 In all art, 'the archer aims at himself'. Yet when he hits the mark, the work often transcends the artist's own particular circumstances. So, paradoxically, sometimes very personal work touches a universal human theme. That is the artist's hope.
My work all grows out of the personal experience. Sometimes it is just the experience of being present and attentive to the day. Often the paintings are musings about the human condition or spiritual matters. They are informed by personal experience and by the observation of nature. I find moments in the natural world that read as metaphors for my own existence. Sitting. Looking. Reflecting. I look beyond the physical realm.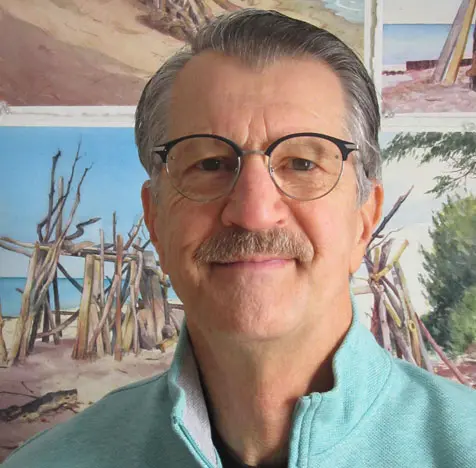 I have understood since childhood that I was an artist. I am baffled as to how I knew this. It was certainly not from exposure, and I don't recall anyone planting that seed. I chose to teach later. Midway through college, I watched as my mentor worked magic in a school classroom. He treated every child as a unique artist, and they responded perfectly in kind. This was an exact mirror of my early identity. I had found my life's work. I became an artist/teacher. This dual identity has illuminated my professional career for the past four decades.
Following a degree in Art Education from Western Michigan University, I taught public school art for eight years in Michigan and Indiana. A Master of Fine Arts Degree from Indiana State University led to my teaching position at Southwestern Michigan College in Dowagiac. During my years at Southwestern, I taught: painting, drawing, design, watercolor, color theory, and art appreciation. Some additional duties have included: managing the College Art Gallery, curating the College Art Collection, and doing mural commissions. I am now retired, with 44 years in public education.
All the while, I maintained a parallel career as an artist. I have mounted over three dozen exhibitions, have had my work included in local and regional exhibitions, and won numerous awards.
Throughout my career, I have worked in a wide variety of media, from egg tempera to wax crayon to wood sculpture. I have explored nearly every painting medium, though most of my work has been in oil, watercolor, and charcoal. I have explored a variety of genres: Post-Impressionism, Color Field Abstraction, Expressionism, and recently landscape, or fragments found in the natural landscape.
I have maintained a long association with Ox-Bow School of Art in Saugatuck, Michigan. It has been a wonderful resource for study and inspiration. I am now frequently invited to teach there. I am also on the faculty of Krasl Art Center in St. Joseph, Michigan. Additionally, I teach custom workshops on a variety of topics in drawing, painting, watercolor, and design.